The licensing of all dogs and cats over the age of six months in the Township are required by state law and Township ordinance, respectively. Licenses must be renewed each year by January 31st. Late fees will be imposed after January 31. Animals must have a rabies vaccination that is valid through November of the current year in order to be licensed.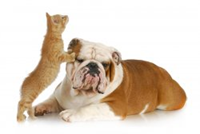 Please visit the website for licensing details and forms.
Licensing is done in the Tax Office at the Washington Township Municipal Building, 43 Schooley's Mountain Road.
There will also be an opportunity to license your animal an the annual rabies clinic being held at the DPW, 54 Rock Road, on January 12 from 9 am- 11 am.